We envision an America full of strong and safe communities...
Where all people can learn, contribute, and realize their full potential

– creating lives of meaning and fulfillment.

To get there, we must develop a better way to help those struggling in poverty. Today, the prevailing approaches treat those experiencing poverty as broken and deficient. As problems to be managed. These efforts often succeed at making poverty easier to endure. But they make it harder and harder to escape.

Instead, we believe in people and their extraordinary potential. We see poverty as the result of barriers between individuals and the ability to tap into their gifts to contribute. Progress happens from the bottom up, by combining the efforts of millions of people, each using their unique knowledge and abilities to break barriers for themselves and others.
We're partnering with 
hundreds of nonprofit organizations.
Together, we're working to fuel their innovation, expand their reach, and amplify their impact to ultimately help more people through bottom-up human empowerment. The only way to solve our country's biggest problems is to fundamentally change the way we address them.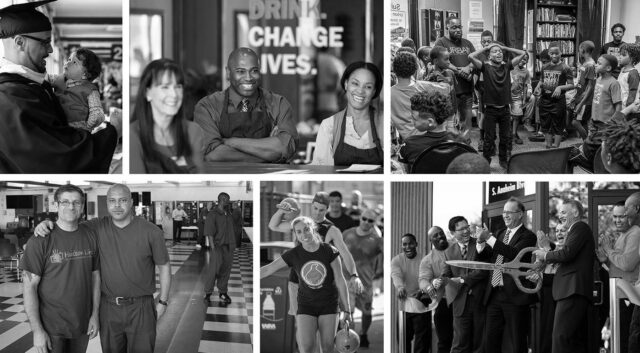 This is what sets us apart. 
People aren't problems to be solved. They are often the source of the solution, and those closest to an issue are usually best suited to address it. Everyone has a gift – and with the right tools, mindset, and support, people can discover and apply those gifts to improve their lives and contribute to the lives of others. We partner with nonprofit leaders who believe that every person has limitless potential.
Just because there's a big problem, doesn't mean there is a sweeping solution. The paths out of poverty are as unique as the individuals living in it. We catalyze innovative solutions that disrupt the status quo and invest in leaders who are solving problems at the community level based on their direct knowledge and real-life experience. 
Rather than buy into division, we unite with anybody to do right because we can achieve more together than we ever could apart. We work with any social entrepreneur who shares our vision and values, fueling the efforts of those who are successfully addressing complex problems in their own communities. 
Stand Together Foundation is part of a broader philanthropic community called Stand Together, which is dedicated to helping every person rise. 
Together, we're partnering with the doers, the changemakers, the innovative entrepreneurs who are tired of the status quo and driving progress in their communities.
Empower people to realize their unique potential.
Advance equal rights and respect the dignity of every person.
Define success as helping others improve their lives.
Demonstrate openness to people and ideas.