Good music is good for the soul. 1 Million Strong's new initiative is showing it's good for empowering people in addiction recovery, too.
Dry January is one of the fastest-growing cultural trends of the decade, going from relative obscurity in the early 2010s to dominating our newsfeeds and social gatherings where mocktails are all the rage. It's estimated that 35 percent of Americans abstained from alcohol in January of last year, with more expected to have participated this year.
What's transformed Dry January into an explosive phenomenon offers valuable lessons for helping people who struggle with addiction more broadly. That's according to an open letter published in Billboard magazine this month by 1 Million Strong, an initiative driven by Stand Together and The Phoenix, one of the most innovative recovery programs in the country.
They're now joining forces with an unlikely ally in our country's battle against addiction: the music industry. Long known for "sex, drugs, and rock 'n' roll," the industry is uniting musicians, fans, entertainment executives, and crew to support people in addiction recovery focusing on community and strength.
A new way to destigmatize addiction
More than 20 million Americans struggle with substance abuse, with 107,000 people losing their lives to overdoses in 2021 alone. The music industry is among those hardest hit. A staggering 56% of music industry professionals cite problematic substance use (versus 7% of the general population).
Sadly, conventional approaches to addiction are not solving the problem at the same pace it's growing. Despite the best of intentions, they can lead to feelings of shame and exclusion; many people in recovery say treatment programs can be too much sitting around and talking about their weaknesses. They can also feel isolating, and loneliness is one of the worst problems someone struggling with addiction can face. Add it up, and there's a negative stigma surrounding people in recovery.
Compare that to Dry January. Instead of fostering isolation, Dry January creates community. It feels empowering because "everybody's doing it." And it's inclusive of people with and without substance use challenges alike. There's no demarcation: "We're all in this together." You feel freer to plan fun, sober activities with others. And whether in social or professional settings, you don't have to make excuses for not drinking. People openly share how good they feel and how they're gaining from it, not what they're giving up.
It begs the question: What if this was how we supported people in recovery all year round? In music, at least, it's a question that's now being answered by a number of artists, companies and organizations.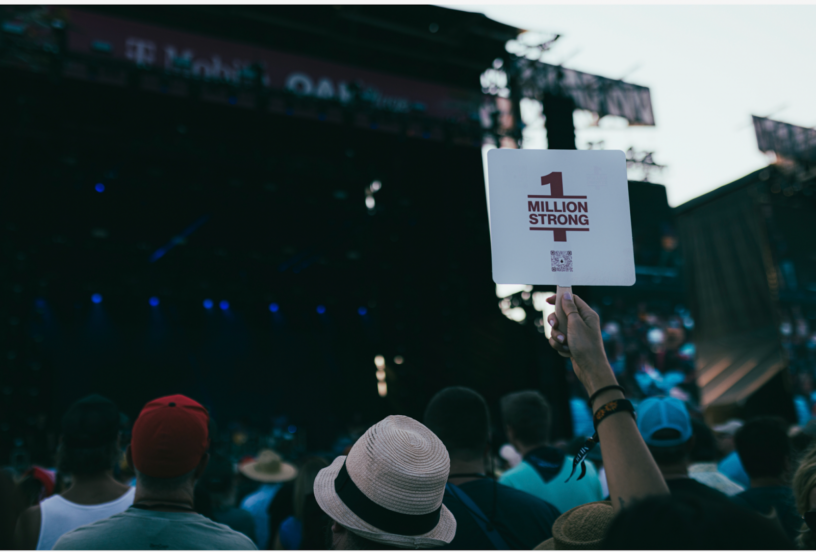 Music and addiction recovery go hand in hand
Danny Wimmer Presents partnered with 1 Million Strong to create sober-supportive spaces or "wellness retreats" – for people in recovery and others – at last year's Bourbon & Beyond Festival and the Louder Than Life Festival. The Chainsmokers did the same at their concert at UC Berkeley's Greek Theater.
More performance spaces are now taking the lead. According to Tim Leiweke, CEO of live entertainment company Oak View Group, all 4,500 of their venues will include sober-supportive spaces by 2026. These will offer artists areas to decompress from the pressures of life on tour, and offer fans a way to support people on the path to recovery by celebrating substance-free lifestyles.
This isn't about turning the industry sober, says the open letter from 1 Million Strong. It's about giving people a better path to truly living in recovery – so they can bring their best selves to music, and everyone can benefit from their unique contributions.
It's clear that people across the music industry see the urgent need for something new. And perhaps it's not surprising to see how the industry is uniquely able to offer it.
Just like the best aspects of Dry January, perhaps there's no greater force on Earth than music at fighting isolation with community, overcoming shame by tapping into inner strength and beating stigma with self-expression and pride.