Principle Based Management™ (PBM), formerly known as Market-Based Management®, provides a holistic approach to making decisions, solving problems, and creating value for individuals in your community, team members in your organization, and society at large. ​​​​​​​​​​​​​In this PBM 101 series, we're unpacking mental models, ideas, and tools that can help you reach the next level in your work.
The country's most impactful nonprofits are those who create virtuous cycles—finding ways to use their talents to improve the lives of others, while simultaneously opening new opportunities for themselves.
As a nonprofit leader, you wake up every day looking for new ways to make that virtuous cycle happen in your own community. But it's a tough task to manage. We often hear from our Catalyst Community that one of the hardest steps in running an organization is knowing how to define value. "Should we focus on breadth or depth? Are we getting to the root of issues, or just applying band-aids?"
We think the Vision Dimension of Principle Based Management (PBM) offers a helpful strategy to define value creation in the context of your organizational vision. It asks you to begin by setting a North Star to keep you and your staff laser focused on the enduring reason you exist, while also empowering your team to dynamically respond to the evolving world around you.
The process of defining your North Star necessitates a careful consideration of value creation. You must reflect on short-term and long-term objectives and opportunities, understand your team's unique capabilities, and then focus your efforts on specific goals that will create societies of mutual benefit.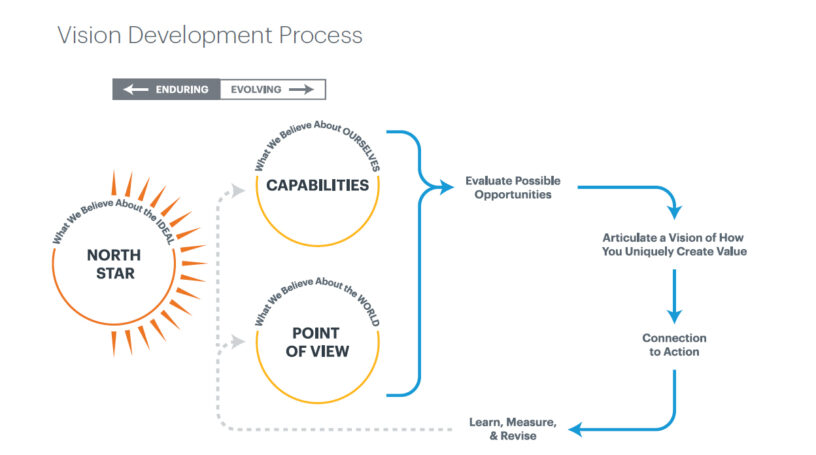 As a brief example, our own organization—Stand Together Foundation—exists to create value for others. Our North Star is focused on removing barriers to that everyone can fulfill their potential in a society of mutual benefit. Today, we think the best way we can uniquely contribute to that goal is by partnering with and empowering Social Entrepreneurs like you to supercharge your efforts. But we're constantly imagining new ways to achieve that North Star. And we encourage our network of nonprofit leaders to do the same.
In our flagship Catalyst Program, we use the Vision-Development Process to help participants determine ways to create long-term value. This helps leaders understand how they can contribute to value creation; but more importantly, it empowers bottom-up contributions from employees across the organization, providing a guide for decision making and effective action.
To dive into the topic of value creation more deeply at your own organization, consider the following four ideas.
Idea #1: Value creation is not the same thing as the illusion of value.
Long-term impact comes from creating real long-term value for members of your community. Our country is full of nonprofits that pour more energy into their message than their mission. But the illusion of value is dangerous, because it pulls attention and resources away from solutions that really work. What are you doing to ensure that your organization's output matches your stated purpose?
Idea #2: Value creation requires real-world knowledge and experience.
The best ideas come from those closest to the problem. Creating value for individuals in your community requires a well-founded understanding of their strengths and challenges. At Stand Together Foundation, we're proud to work with hundreds of innovative nonprofit organizations that are developing grassroots, bottom-up solutions to meet specific needs of their neighbors. How are you elevating the voices of your community members to ensure you know what value means to them?
Idea #3: Lasting solutions rely on honoring the dignity of the individual.
Throughout history, people have been best able to fulfill their potential in societies that legally and culturally honor the equal dignity in each person—where individuals are able to pursue happiness and help one another, instead of being treated as pawns in someone else's game. In the nonprofit context, that means we focus on voluntary exchange, building systems where the beneficiary believes they will be better off by participating. How are beneficiaries better off through participation in your organization? How does that compare with the value they might derive from similar organizations or institutions?
Idea #4: The definition of value is constantly changing.
As communities grow and transform, the support they need from social entrepreneurs also transforms. And each of our organizations are constantly evolving, growing new and more robust capabilities that can be brought to the table. Your role as a nonprofit leader means keeping a pulse on your neighbors' most pressing challenges and being willing to adapt accordingly. How has your organization examined and evolved its value proposition over the past three years?