Principle Based Management™ (PBM), formerly known as Market-Based Management®, provides a holistic approach to making decisions, solving problems, and creating value for individuals in your community, team members in your organization, and society at large. ​​​​​​​​​​​​​In this PBM 101 series, we're unpacking mental models, ideas, and tools that can help you reach the next level in your work.
In recent articles we have explored two important elements of the Principle Based Management Vision-Development Process: finding your North Star and developing your point of view. A clear North Star ensures your team stays rooted to the ideal for which you all strive. And a reality-based Point of View helps you understand the landscape of opportunities and how your organization might respond to have the greatest impact.
As your Point of View evolves—as your organization and community face new challenges and changes (or sudden shocks, like the COVID-19 pandemic)—it can be tempting to pivot and spread your efforts to tackle everything. But not all problems and opportunities and paths to impact are created equal. Understanding your organization's strengths can help you figure out which opportunities your organization is best equipped to focus on, and how to tackle them. Similar to your Point of View, your capabilities provide another layer of guidance for "how" your team can best serve your communities and make the greatest impact.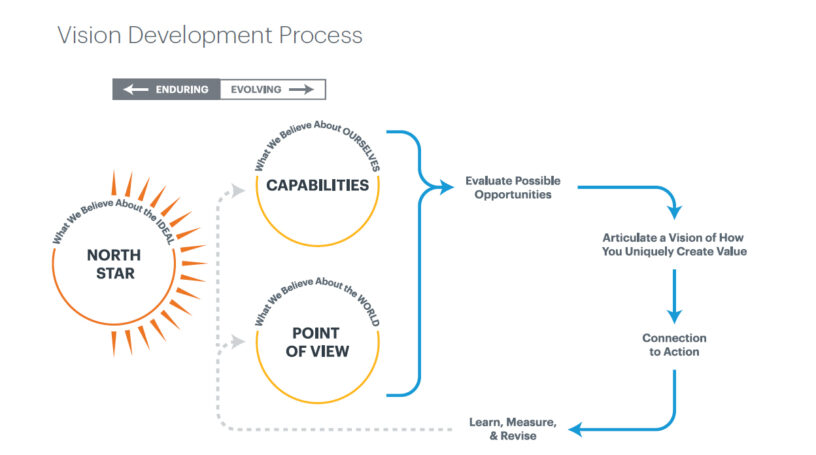 So how do you figure out what your capabilities are? Capabilities are the strengths that cause your organization to succeed. True capabilities are distinctive, durable, and broadly applicable organizational attributes. (Just because you have one employee who has a particular aptitude, doesn't mean that aptitude is an organizational capability.)
When you look across your organization's most impactful moments, what strengths do you see cropping up time and again? What seems to be at the root of your successes? These questions will get you closer to defining your capabilities.
In the process, you might also realize that you lack strengths that are necessary to create the most value for those you serve. If you see such gaps, consider whether your organization should build that capability internally or partner with others who already have those strengths.
When you define and communicate your organization's capabilities with your team, you ensure that they can better leverage those strengths across everything they do. In this way, capabilities are once again similar to your Point of View, by acting as a constraining force.
Clear capabilities equip your team to say "no" to opportunities that don't match your strengths, and empower them to create value with the right opportunities.
Ironically, the constraint of your capabilities also opens you up to unexpected opportunities. Capabilities force you to say, "How can we do more of what we are good at?" instead of, "How do we do more of the same?" That entrepreneurial spirit will help you adapt to the changing realities of society and the evolving needs of your community.
Ready to assess your nonprofit's distinct capabilities? Here are five ideas to help:
Review your organization's greatest hits over the last year. What caused your organization to succeed? What is your organization particularly good at? Why do you believe you are good at these things?
Consider the core issue your organization focuses on. What strengths enable your organization to effectively tackle this issue? Why do you believe you are good at these things?
Examine similar nonprofit organizations in your field. What do you do differently? How do you complement one another's work?
Look at the strengths that cut across your teams. What are the general characteristics and attributes that stand out?
Talk to your most important beneficiaries (customers, partners, donors, etc.). Ask them why they prefer to work with your organization over others.