Stand Together Foundation's Executive Director, Evan Feinberg, was recently invited to join the We Are For Good Podcast again for a conversation about compensation. (Click here to find his first episode about harnessing innovation to scale impact, and click here for his second conversation about learning from the for-profit sector.)
This episode was recorded at a moment when workforce issues are at the forefront of the national conversation. Evan shares a variety of strategies and stories from the Stand Together Foundation community to build a case for better pay structures in the social sector. Below are five highlights and quotes from Evan about the important role of incentives. Check out the full episode at https://www.weareforgood.com/episode/270.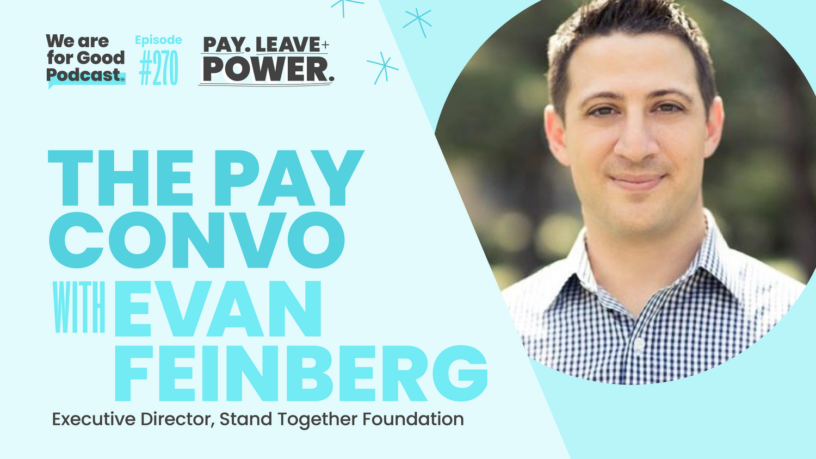 Nonprofits don't have to settle for "second best" talent. Nonprofit giving is trending upwards, providing the resources necessary for competitive pay—and a majority of workers are looking for work that provides meaning and purpose in their daily life.

"If we think about compensation a little bit differently, and we think about management culture a little bit differently, I believe that nonprofits can and should attract the very best talent."
Nonprofit work often has a stigma that it doesn't contribute to economic growth. We must work diligently to reframe nonprofit work as a fundamental part of the economic equation.

"I'm someone who believes in free markets and the growth of our economy overall—it's absolutely critical. But we need that growth to be inclusive of everyone. And we need strong communities that empower everyone to participate."
Nonprofit leaders must overcome their fear about generous compensation being perceived as irresponsible. Focusing too heavily on overhead takes attention away from being innovative—and being innovative usually requires a significant investment.

"Nonprofit organizations that are truly transforming lives and transforming the world can fundraise off of that transformation. And they can leave the problem of how much money they're spending on infrastructure in the dust."

Win-win relationships are critical to retaining top talent. You can build these relationships by matching the total compensation for an individual to the value of their total contribution to the organization.

"If at any time we're profiting off of our employees, that means we're paying them as little as we can to get the most contribution. In the short term we might have gotten lower cost, higher yield—but that employee is going to go look for employment elsewhere, somewhere that will pay them what they're actually worth."

Employee contributions are never just financial. Even fundraisers—who spend the bulk of their time generating revenue—can provide qualitative value to a nonprofit's strategy and culture.

"If you only price the outputs of someone's fundraising, and you don't price their contributions to sharing knowledge across the organization… there's all of this unseen benefit you're missing in your pay."
Listen to and read the full interview on WeAreForGood.com.