Principle Based Management™ (PBM), formerly known as Market-Based Management®, provides a holistic approach to making decisions, solving problems, and creating value for individuals in your community, team members in your organization, and society at large. ​​​​​​​​​​​​​In this PBM 101 series, we're unpacking mental models, ideas, and tools that can help you reach the next level in your work.
Developing a shared vision unleashes each team member's ability to contribute, maximizing their impact on the communities you serve. But having a shared vision isn't just about letting employees know what kind of impact you want to have. It's not just a lofty mission statement describing how the world should be different. Those mission statements often leave employees feeling inspired in the short-term, but then confused about how to actually make progress.
An effective vision includes a bold goal (what we call the North Star) and a "strategic guide"—something that helps employees understand how they can contribute to the ideal outcome.
Getting the "how" guidance right can be tricky, but it's critical if you want to unleash creative and effective contributions toward your North Star. The "how" should provide knowledge and guidelines that constrain action, not rules and prescriptions that constrict action.
Today, we'll zoom into the "Point of View" phase of the Principle Based Management Vision-Development Process. This step helps you develop a vision that motivates and empowers entrepreneurship by providing a shared direction and a clearer sense of "how" to get closer to the finish line.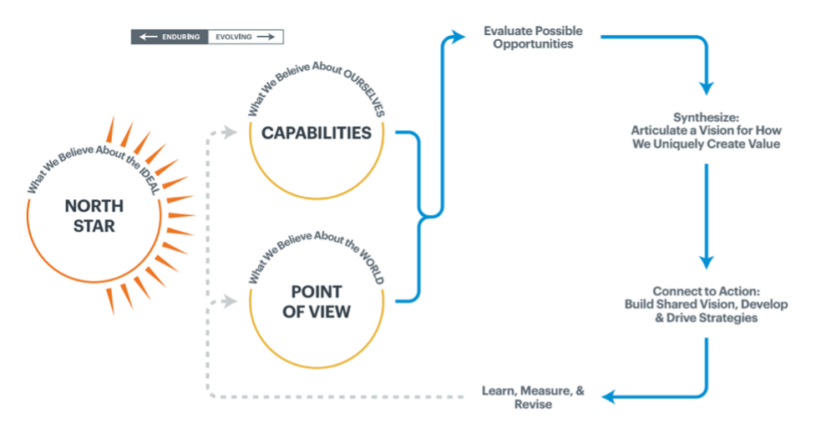 In a constantly evolving environment, it's critical that your team understands the aspects of society in which they are best positioned to make a difference. The questions you're asking are just like those you would consider when preparing for an outdoor adventure: What sort of terrain do you operate in? What's the weather like? What factors shape the landscape? Who else is traveling along the same path—and who are you trying to reach at the other end?
These kinds of questions help you gather a reality-based perspective on factors that shape your work. They help you and your team act with the best information, instead of acting with incomplete information and hoping you stumble upon something that works. In other words, a well-rounded Point of View shines a bright light that makes it easier to develop solutions that are more likely to succeed. You don't need a Point of View on every topic, but if it touches your world, you should have a Point of View on it.
So how can you develop the Point of View that you need to succeed? One of the best methods is to interview and observe customers as they engage with your programs. This can be a great way to challenge assumptions about what is and isn't working in your programs.
You can also run experiments and do research to inform your work. If you don't have the resources to do your own research, build networks of knowledgeable peers and experts who can provide data and insights about the important trends and factors that impact your environment.
Even when you have your Point of View developed, you're not quite done. Because the world constantly changes, it's important to evolve your Point of View in response to societal shifts and outside factors, treating this phase of vision development as an ongoing process.
When you commit to the Point of View phase of the Vision-Development Process, you commit to ensuring your team is always connected with the most reality-based knowledge about the world. Empowered with this knowledge, they can adapt to changing conditions, innovate, prioritize, and better serve customers—all while staying true to your enduring North Star.