Stand Together Foundation recently hosted a series of webinars for Catalysts to explore the implications of self-actualization.Nonprofit leaders rarely spend time reflecting on their own needs, hopes, and dreams—but that reflection is a critical ingredient for meaningful work. This article summarizes some key insights from our conversation with social entrepreneurs in the Catalyst community.
Self-actualization might sound like an impractical topic for nonprofit leaders. It doesn't offer a clear path to more effective recruiting efforts or provide a new framework for decision-making. But self-actualization, if you learn how to understand and harness it, can be one of the most powerful tools in your leadership toolbox.
We do our best work when that work aligns with the fully actualized version of ourselves. Our organizations succeed when we create an environment in which each employee can do the same. And our communities thrive when each and every person has the opportunity to identify and reach their full potential.
The most famous framework for understanding self-actualization comes from Abraham Maslow's "hierarchy of needs," with self-actualization sitting atop a pyramid as the final human pursuit after both basic and psychological needs are met. Though useful for organizing Maslow's work into a single diagram, this visual construct unhelpfully positions self-actualization as a finite achievement, rather than a fluid experience achieved in a cyclical, ongoing process.
At Stand Together Foundation, we like to use the "sailboat metaphor" to paint a clearer picture of the various factors at play in pursuing and achieving self-actualization. This metaphor, borrowed from the work of Scott Barry Kaufman, envisions individuals as sailboats at sea, with three "security" needs and three "growth" needs that enable them to successfully navigate life and reach transcendent experiences.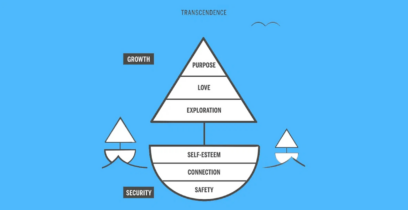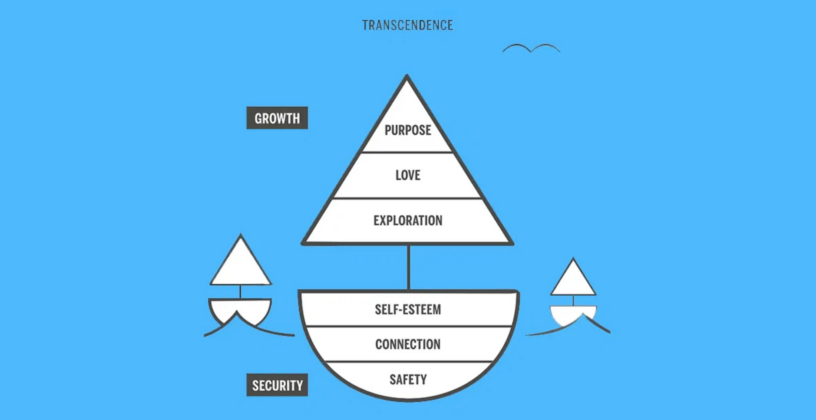 Security needs include the factors that keep an individual's "boat" afloat: Are you safe? Are you connected to other humans? Do you have a positive self-image? Without those needs met, you have no buoyancy; you are not prepared to thrive.
But security alone isn't enough. Without a sail, you aren't going anywhere. Your growth needs—exploration, love, and purpose—are required to give you forward momentum. These factors aren't a linear achievement, but they fuel your journey through life and influence your ability to overcome rough seas.
When we talk to the most impactful Catalyst organizations, we find that their programs usually map to the sailboat metaphor in significant ways. Some nonprofits focus on providing psychological or physical safety so that their participants have the chance to work on addressing other needs. Other nonprofits provide opportunities, to both employees and clients, for meaningful connection and the development of self-esteem. Still others invest in growth needs that help individuals truly flourish.
In other words, nonprofits that are really moving the needle and transforming lives are those that have found ways to empower people on the journey to self-actualization. And nonprofits that don't acknowledge the role of self-actualization risk missing the mark altogether.