Thousands of community-based organizations are working to deliver personal transformation to their communities.
But many of the most disruptive nonprofit organizations lack the resources, knowledge, and support to grow. So, while nonprofit leaders – we call them Catalysts – are busy removing barriers to building stronger communities around the country, we're busy helping them remove legal barriers to igniting their impact and reach.
Our Catalysts are on a long journey of learning and discovery, both about themselves and their communities. What is the true vision, and how can they change their communities through that vision?
How can they unlock their potential through Principle Based Management™ (formerly Market-Based Management®) and the many other tools that the Stand Together Foundation Catalyst program provides?
And how can they break down the barriers that stand between them and achieving that vision and potential?
Joining the Catalyst Community
When nonprofits join the Catalyst Program they learn how to refine vision and principles, how to capture opportunities to drive value, and how to strengthen organizational culture, but Stand Together Foundation has so much more to offer.  The broad reach and thoughtful guidance of Koch Industries' extensive legal network is one of those things.  Once a nonprofit has been selected into the Catalyst Community, they receive access to an accomplished legal bench deeply versed in topics from trademark disputes to real estate and asset negotiation.
The best part? All Koch Legal Services are pro bono for our Catalysts, meaning no matter the challenge, there's no legal costs to the participant.
The services include representation when needed, legal seminars to tackle the toughest challenges, advising on expansion or franchise structures, partnership and incorporation projects and other barrier-breaking support that our Catalysts need and deserve. The Koch Legal team taps into a national network of Koch's in-house attorneys and partnering law firms to help and in 2020, has provided nearly 500 pro bono hours of service. More than a quarter of Koch's legal team across industries is involved, and the effort is expanding..
After a free real estate law webinar led by a Koch counsel in August, one participant was blown away by the support:
"This is a great opportunity to get expert advice from people we can trust, believe in our missions, and are eager to offer support."
Another Catalyst was able to glean guidance on purchasing or leasing facilities to help them decide whether to expand. This advice would traditionally come at a high cost to nonprofits, a cost they may not always be able to afford – but for Catalysts, it is as easy and free as picking up the phone.
Gwen's Story of Perseverance
For Gwen, a client of the Georgia Justice Project, Koch's pro bono legal services couldn't have come at a more urgent time. After serving time in prison, she knew she needed to turn her life around, and set out to do it, earning a bachelor's degree in criminal justice administration and master's degrees in religious studies and divinity. But despite her achievements, she still struggled to find full-time employment due to her criminal record. "I missed out on a lot of great jobs," she said. "It's that stigma that's attached to it, I guess."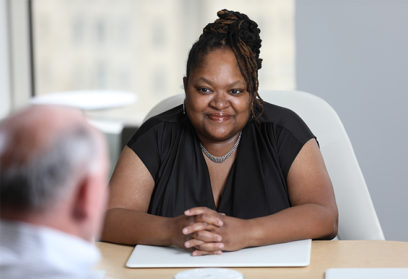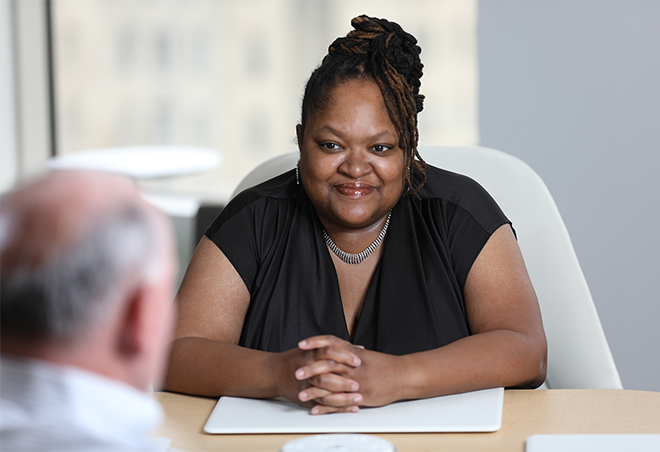 Just last year, when she applied to be a counselor at a youth detention center, Gwen got as far as interviews for the position — and then no further. "They loved me," she said, recalling that they were going to hire her, "but when my record came back, they couldn't."
Before Michael's 28 years at Georgia-Pacific, he had worked for the state prosecutor's office. Practicing law for nearly four decades, he knew about the barriers that people like Gwen face after they've served their sentences, but he felt hopeful for Gwen's chance for a pardon. "It's the right thing for us to do, both as Georgia-Pacific and as a larger Koch company," Michael said.
Every three weeks, Michael and Gwen met at Georgia Justice Project's headquarters, poring over documents and drafts for hours on end. They submitted for her pardon earlier this year, only to find the COVID-19 pandemic had slowed the process with the State Board of Pardons and Paroles. But in early August, her letter finally came: after three attempts, Gwen's pardon was finally approved. She could move on with her life.
"I'm still in awe," Gwen said.
Michael is now looking at new changes in Georgia state law that would allow Gwen to get her records sealed, which would open the door to even greater job opportunities.
"I'm not the same person today that I was 15 years ago," Gwen said. "I'm glad I don't have it hanging over my head anymore."
Helping Catalysts reach their potential. It's what we do at Stand Together Foundation, and Koch Legal matches have proven time and again to help Catalysts focus on what matters most – helping people thrive. Our nonprofit partners are saving thousands in time and resources by having their legal needs met with attorneys who have the specialized knowledge to provide solutions to their most pressing legal challenges. Ask us how the Koch Pro-Bono Legal team can help find a match for your legal needs.
Interested in partnership at Stand Together Foundation, let's get in touch here.