Want to have a real impact? It's time to start thinking about your
nonprofit like a business.
Some nonprofit management systems are based on collecting best practices from the most successful nonprofits; others are a mixture of whatever works or what's popular. Principle Based Management™ (formerly Market-Based Management®) takes a different approach. It is a collection of principles, mental models, and ideas that have stood the test of time and can help us achieve superior results. 
In short, Principle Based Management is all about running your nonprofit like an effective business. It empowers you to find new ways to innovate and provide long-term value for your beneficiaries (your customers) and your community.
Don't just take our word for it. Watch how Acts Housing utilized the vision development process to transform their organization, creating a more refined, scaleable, talent-attracting vision and culture.
Explore the 5 Dimensions of Principle Based Management
As a nonprofit leader, the building blocks of PBM can help you tackle problems and opportunities in a holistic, consistent, and principled manner. It is based on 5 fundamental dimensions that you can use to guide your decision making as a nonprofit leader.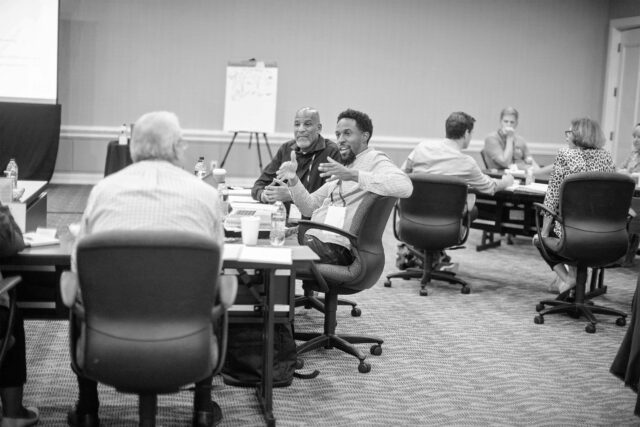 5 Fundamental Dimensions
Do you know how you create value for others? Is that understood and shared by everyone, and are you continually adding to your capabilities to move toward your goals?
2
Virtue & Talents Dimension
Are you building the right culture and attracting the right talent to achieve your goals?
3
Knowledge Processes Dimension
Do you have the knowledge you need to make the best decisions?
4
Decision Rights Dimension
Does everyone understand what they're responsible for and are they empowered to be entrepreneurial?
Are people motivated to maximize their contribution and engaged in meaningful work?
Free eBook
Principle Based Management 101
At Stand Together Foundation, we've worked with hundreds of the nation's most effective nonprofit organizations to help them maximize their impact by integrating Principle Based Management strategies into their work. We put together a free ebook based on our experience to help you find ways to apply Principle Based Management to your own nonprofit. Fill out the form next to this to receive your free copy!
Catalyst Program
The Catalyst Program is our flagship experience for nonprofit leaders.
We partner with social entrepreneurs who are passionate about transforming the way our country thinks about, talks about, and tackles the problems of poverty. It includes six months of management and leadership development and provides access to our national network for social and financial capital.